High Speed Rail in Canada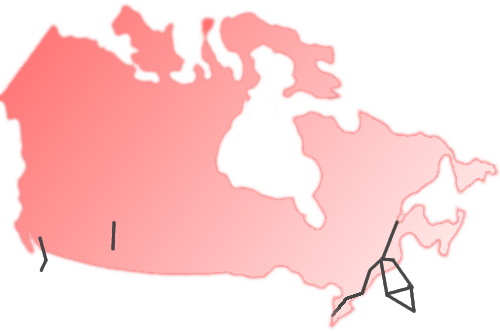 ---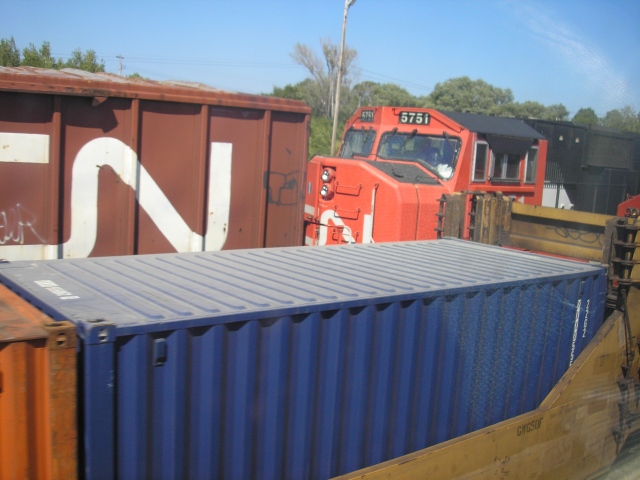 Picture taken out of a standing passenger train, letting pass a CN freight train (2006). In most other countries, it would be the freight train, that has to wait!
© Photo: Stefan Bracher
A network controlled by freight-train companies
While other countries already have a separated high speed train network, Canada's Via Rail is still operating on CN and CP freight line tracks, often being second priority. Construction of reserved passenger rail tracks could dramatically improve the service of Via Rail. Just immagine: A trip in TGV Toronto-Montreal at 260km/h would take only about 2.5 hours!
Diesel powered trains in a country with cheap electric power!
Having an electric passenger train network might sound out of question because of the distances and electrification costs. But a part from the environmental benefits, there are two main advantages why Canada should consider to do this investment.

1. Domestic electric power: Electric power is produced locally at low cost. This makes train operation independent from raising fuel prices.

2. Cheaper mass market high-speed trains: As most high-speed trains in the rest of the world run on electric power, an electric network is needed to purchase these mass marked train sets.
The Corridor
---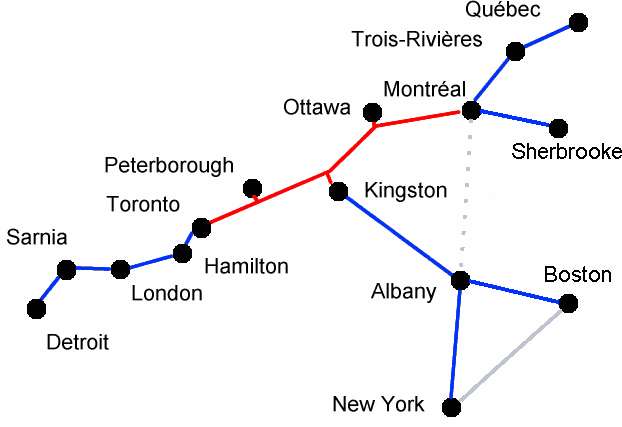 Red: New High Speed Track (260-350km/h)
Blue: Upgraded Track (120-180km/h)
Gray: Existing High Speed Connections
Gray dashed: Other High Speed link projects
The corridor is probably the sector most suited for high-speed rail in Canada, with a population density and distances comparable to those in other countries having a TGV network.
A single high-speed core line between Toronto and Montreal could cut travel times between Toronto, Peterborough, Kingston, Ottawa and Montreal enormously. Bringing these cities at commuting distance, would create one big economic area.
Estimated travel times:
Toronto-Montreal: 2h 30min (Now 4h 10min)
Toronto-Ottawa: 1h 40min (Now 4h 5min)
Toronto-Kingston: 1h 4min (Now 2h 6min)
Toronto-Quebec: 4h 50min (Now 8h 33min)
Kingston-Ottawa: 36min (Now 1h 53min)
Ottawa-Montreal: 50min (Now 1h 42min)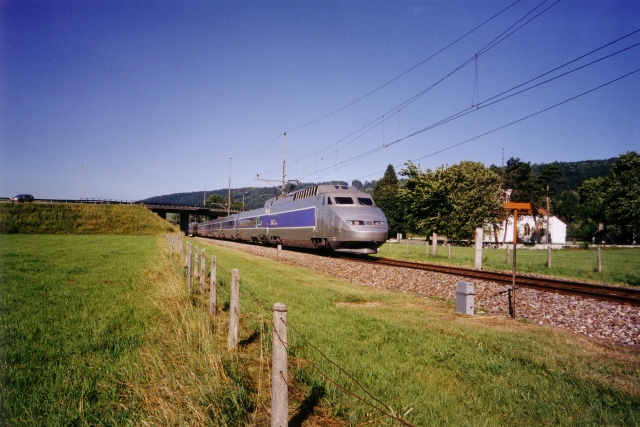 TGV from Paris to Switzerland at Les Verrieres (1999).
On this line, the TGV runs at top speed on the HSL for about 2h, and then slows down to 80-120km/h for the rest of the journey (3h).
© Photo: Stefan Bracher
All of Ontario and Quebec benefits
By upgrading existing freight tracks, creating right of ways and build missing connections from Sarnia to Quebec, most cities in Ontario and Quebec could have direct TGV trains to Montreal, Toronto and the Capital. These trains would roll at a moderate speed of 80 to 120 km/h on the old track and finally speed up once they reach the central high-speed rail line. This is the concept of the French TGV network! Using this principle, high-speed train connections to the States are also thinkable.

Having the passenger trains between Toronto and Montreal on a separate track, frees capacity for freight trains, resulting in faster merchandise delivery. But it does not stop there: Even people that won't use this TGV-Canada network benefit, as there will be less traffic jam on the highways and at the airports.
How to attract customers
Being fast is not the only advantage of train travel. To attract customers, it is also important to be more convenient!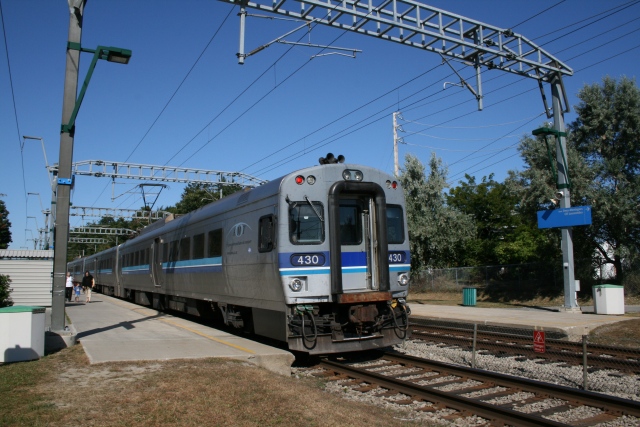 AMT Suburb Train at Deux-Montagnes (2009).
Taking the TGV should be like taking a suburb train.
© Photo: Stefan Bracher



Inter-modal stations in the city centers
Having passengers depart and leave right in the center of a city, removes the hassle of getting to an airport and saves additional time. Further on, all train stations in a high-speed rail network should be inter-modal, allowing passengers to reach the whole city and the surrounding towns with connecting local trains, underground-networks, tram and bus.
Coordinated and easy timetables
Having inter-modal stations without coordinated timetables is worthless. All suburb trains and buses should arrive at the station a few minutes before the departure of a long distance train, and leave a few minutes after such a train arrived. Right now, Canadian timetables an unnecessarily complex, having departure times alike 08.13 09.35 10.55 14.00 ... Wouldn't it be more convenient, to have regular intervals? Having departure times like 08.10 09.10 10.10 11.10 ... passengers do have to memorize only the minute of the hour the train is leaving.
The Swiss went even further with their system (One of the densest in the world): Their train network is synchronized like a clock with all trains arriving at main stations a few minutes before the full or half hour, and leaving a few minutes after. This completely removes the need to consult a timetable.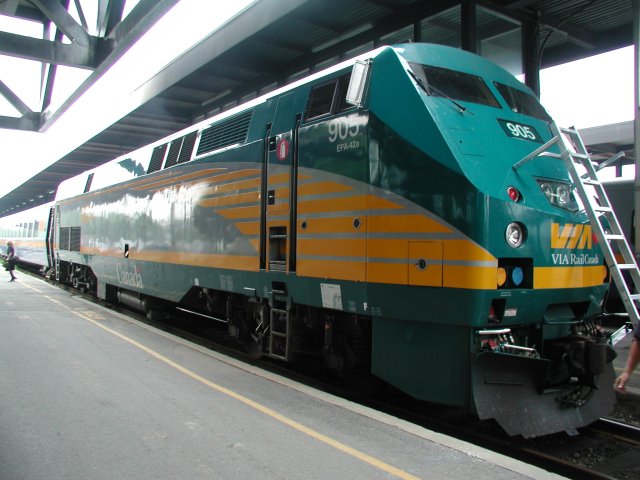 Via Rail LRC at Ottawa (2002).
By moving the train station of Ottawa in the city center, the train becomes more attractive.
© Photo: Stefan Bracher
No check-in or reservation required
High-speed train travel should be like taking the suburb train: Just go to the platform a few minutes (or even seconds) before the train leaves, get your ticket at a machine and hop-on. In this way, it is possible to travel when you want and where you want, without having to plan ahead.
An all inclusive Corridor Pass for frequent travellers
Probably the biggest boost for public transit in Ontario and Quebec would be to put in place a Corridor Pass, valid for unlimited travel on all transit systems (VIA, Suburban train, Underground and City-Buses) of these provinces for a month or the whole year. If you'd had to go to a business meeting in Montreal, just take bus, tram or suburb to the train station, take the TGV to Montreal and once arrived, go by Metro or Bus to the office building the meeting is taking place. And all of this with one single ticket!
Return of investment
Many studies have been carried out about the question if a Bullet Train in the Corridor will be profitable, but none asks, if being profitable is really a requirement. Like any other infrastructure project, the return of investment will come in better living conditions, increases tax revenue and new jobs created by attracted companies. Was there ever a freeway that created direct revenues at the scale of the cost of construction?
Calgary-Edmonton Bullet-Train
---
Red: New High Speed Track (260-350km/h)
Since the Via-Rail left Calgary in 1990, the city is without train connection to other Canadian cities. A high speed link could connect it with the other big city in Alberta, Edmonton, in less than an hour and bring the two cites at commuting distance.
Apart from linking these two cities, the line could serve at the same time as airport shuttle for Calgaries and Edmontons Airports.
Estimated travel time:
Calgary-Edmonton: 1h 8min (Now 3h 15min by Bus)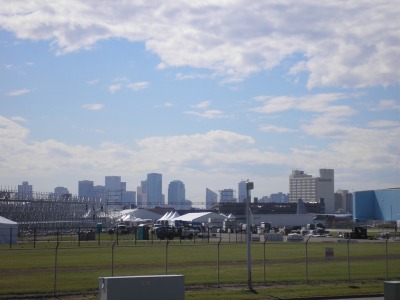 Picture of Edmonton from Edmonton Train Station (2006).
© Photo: Stefan Bracher
Edmonton Central Station
The existing Via-Rail Station is too far outside the city. Thus a new train terminus at Downtown Edmonton shoud be build for the high-speed rail connection.
By rerouting Via-Rails "Canadian" to this station as well, connections to Vancouver and Toronto will be possible.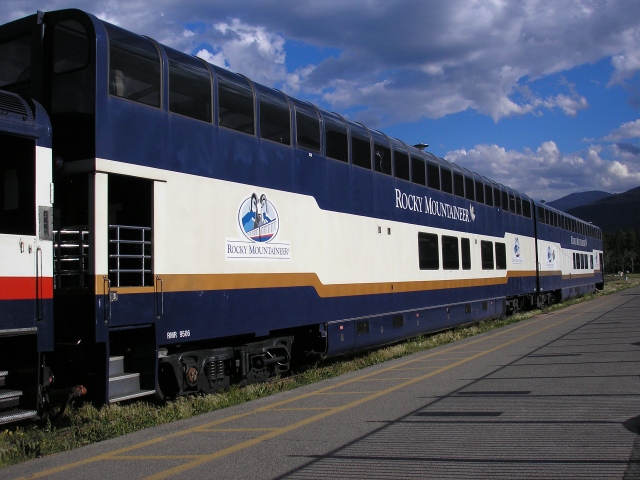 Rocky Mountaineer at Jasper (2006).
© Photo: Stefan Bracher
Regular trains to Calgary
The biggest city in Alberta, Calgary, is currently without any regular train service. Only the "Rocky Mountaineer" Tourist train, stops here from time to time.
Starting at the Calgary Tower, the bullet train could use existing tracks to get out of the city and then follow Highway 2 towards Red-Deer.
Vancouver-Seattle High-Speed Train
---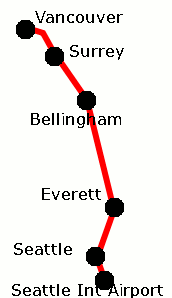 Red: New High Speed Track (260-350km/h)
With a distance of only 229km, Seattle and Vancouver can be connected with a high speed link in less than one hour.
Travel time Vancouver-Seattle:
Now: About 3h 25min
Improved Cascades service (160km/h): <2h
By TGV/Acela (>260km/h): <50min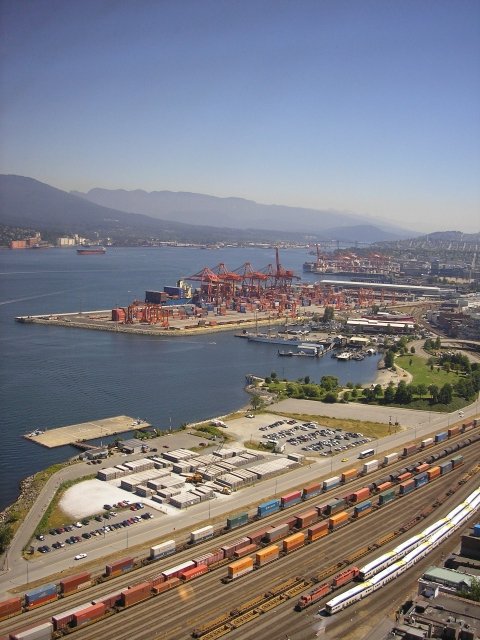 Freight Trains and West Coast Express in Vancouver (2006).
© Photo: Stefan Bracher
Amtrak Cascades Service
Currently, the line is served by Amtrak's Cascades Service. But only two daily trains to and from Vancouver are offered. With a travel time of about 3.5h there is much room for improvement.
With moderate investments, the existing tracks could be upgraded so that the travel time in a Cascade-Train is cut under 2h. (Calculated with 160km/h top speed). With more daily trains, the existing route would attract tourists and business people as well.
Acela Express Seattle-Vancouver
In a second step, the line should be electrified, permitting Amtraks Acela Express to cut the travel time to 50 minutes. Independent from raising fuel cost and with a fast, reliable service, the train would definitely become the best way to travel from Vancouver to Seattle.
On board border control
Trains from Canada to the US currently stop at the border for customs check. These checks could be easily done on board while the train is running, providing many minutes of saved travel time at almost no cost,
Via Rail F40 PH-2 in Jasper (2006).
Via Rail currently only operates diesel locomotives in BC.
© Photo: Stefan Bracher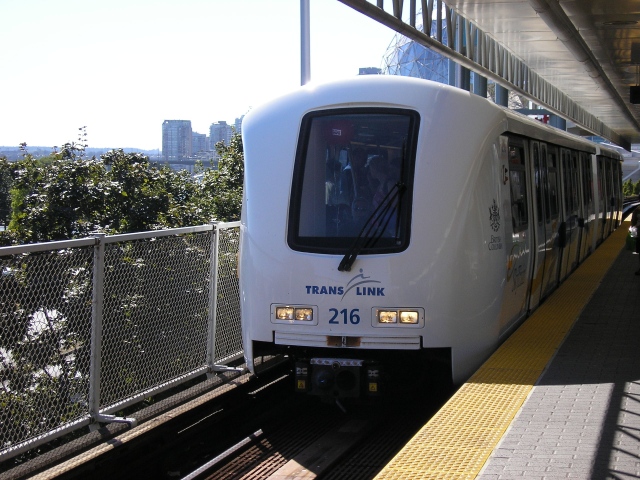 Sky Train in Vancouver(2006).
Passengers arriving at the Vancouver Pacific Central Station can easily connect to the rest of the city using the Sky Train.
© Photo: Stefan Bracher
Bullet Train Montreal-Boston/New York
---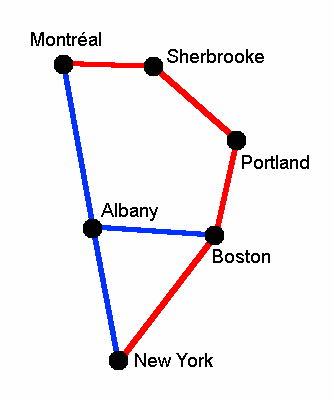 Blue: Variant via Albany following the Adirondack route
Red: Variant via Sherbrooke
With a distance similar to Paris-Lyon, Montreal and Boston, as well as Montreal and New York are at an ideal distance for High Speed Rail Service.
Estimated travel times:
Montreal-Boston: 2h 30min
Montreal-New York: <3h
Imagine: One could leave Montreal in the late afternoon, enjoy the evening in New York and be back before midnight! Our friends south of the border on the other hand, could enjoy day trips to the French speaking Quebec and plunge in a different culture just next to their home.
Boston-New York-Washington
Since the year 2000, Amtrak operates the first High-Speed train in North-America between Boston, New-York and Washington. The service called Acela-Express, traveling the 360km between Boston and New York in about 3 hours and 30 minutes and thus much slower than what is regarded as "high speed" in Europe and Japan, is nonetheless very successful.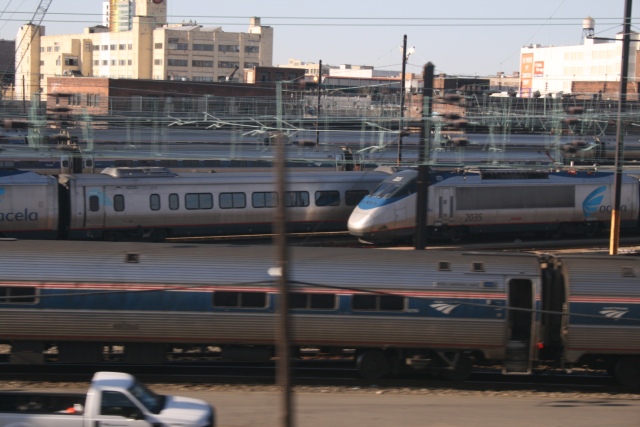 Amtrak Acela Express in New York (2008).
Electric High-Speed Trains could reduce fuel cost dependency and increase the speed.
© Photo: Stefan Bracher
Montreal-Albany
The trip from Montreal to New York on Amtrack's Adirondack service takes currently more than 11 hours. But already at a speed of 200km/h, this journey could be reduced to under 3 hours. By improving the track from Montreal to Albany, direct trains Montreal-Boston as well as Montreal-New York would be possible.
Montreal-Sherbrooke-Boston
An other option in this corridor is to build a complete new line from Montreal to Boston via Sherbrooke and then use the existing High-Speed Line from Boston to reach New York. While slightly longer, the "side"-effect would be a connection from Montreal to Sherbrooke in less than 45minutes.
---
---
© Webdesign and content by Stefan Bracher